Odd Arne Kristengård appointed new CEO
We are very pleased to announce that Odd Arne Kristengård has been appointed as the new CEO of Maritech Systems AS.
Kristengård (47) has been serving as our Acting CEO since June and has been appointed Chief Executive Officer of the Maritech Group from the 1st of November.
High speed and ambitions
"Maritech has grown rapidly and become a leading software company with global reach. We are convinced Odd Arne is the right person to lead the company through the next phase of consolidation and development. Building infrastructure to support a rapidly expanding technology company is no small task, and Odd Arne has been crucial in steering the company´s technological vision in the right direction. His expertise will ensure we have the right foundation, tools and processes to support our further global growth," says Mette Kamsvåg, Chair of the Board of Directors for Maritech.
Maritech currently has 109 employees and offices in Norway, the USA, Canada, Chile and Iceland. "The recent years represent a tremendous development for us as a company," Kristengård says. "Now we are entering a new phase where we are reorganizing and revising our strategy to equip ourselves for further international growth, and to take the next step within product development. Our most important mission is to lead our customers into the future and enable them to supply the global market with healthy, safe and sustainable seafood, as well as smart logistics with the least possible footprint."
Learning every day
"Since 2014, we have delivered an annual growth rate of 23%, at the same time we have built an extremely strong team and world-class solutions. We are very proud of what we have achieved so far. Personally, I believe that the most important step has been the creation of our Innovation Lab – one of Central Norway's largest development environments, where a top team of employees together create a digital seafood platform for the global market. They are creative, bold and ambitious, and we have succeeded in uniting new and old cultures. We have become a company that the very best want to work for, with a strong, common motivation to succeed together as one team."
Kristengård holds degrees in IT (Molde University College) and Social Economics (NTNU) and has had many different roles so far in his career. "I am a sponge, and have worked with sales, development, strategy, project management and business development. I remember that I joined Maritech thinking I was an expert," Kristengård laughs. "Then I met our colleague Hallgeir Loe in Averøy, who has been involved in building the company from scratch. Then I realized that something is being created here that is very special. Since then, I have learned every day. And we have learned and developed tremendously as an organization.
In my eyes, the start of today's company is the journey we began when we became Maritech again in 2012, after being part of AkvaGroup. When Mette (Kamsvåg, editor's note) took on the role as Chair of the Board in 2015, the board agreed on a new strategy characterized by high goals, proactivity and speed. Then my predecessor Janne Morstøl became CEO, professionalizing our product development and the commercial aspect. Now we are going from being the largest in Norway to the largest in the world, with a unique product portfolio and a fantastic team. It's incredibly inspiring."
Family and football
As a leader, Kristengård is described as extremely skilled and a person with good social antennae. "I'm interested in people. Why they do what they do, how we can make them the best version of themselves. Then we reach far. Furthermore, I believe that openness and integrity are crucial values, as well as a good balance between speed and nuances."
As a father of four and an avid football coach, it comes in handy to be both determined and fond of people. Kristengård is an ardent Hjelset-Kleive supporter, and loves books, music and film. "Above all, I am a family man," he concludes. "The family is my most important value, it always has been. And at home, my wife is the boss."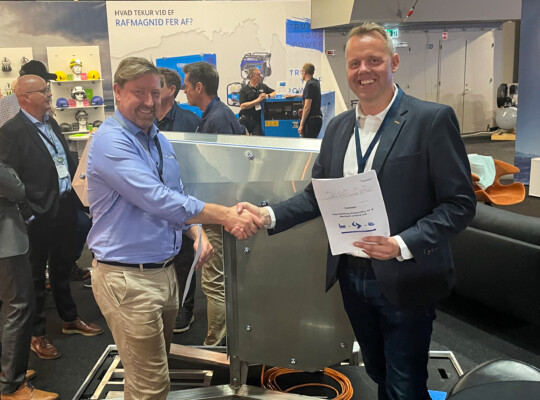 30/09 2022
New Maritech Eye contract in Iceland 
Read more