Welcome to Maritech,
Brim and Hnyfill!
In early June, The Icelandic Fisheries Exhibition (IceFish) finally opened its doors to the public again.
It was great to be back! And a perfect occasion to sign our two new customers, Brim Seafood and Hnyfill.
Brim testing Maritech Eye
Brim Seafood is one of the largest seafood companies in Iceland, specializing in wild-caught Atlantic Cod, Deep Sea and Golden Redfish, Greenland Halibut, Saithe, Mackerel, and Haddock. The initial phase of our new Brim partnership is a Maritech Eye™ test project, where the main goal is to increase the efficiency of Brim´s production and processing.
"We have been in dialogue with Brim for a while now, and they have been very positive right from the beginning. They are a leader in innovation and responsible fishing and have positioned themselves as an influencer in the Icelandic seafood industry," says Konrad Olavsson, Maritech Iceland.
A natural next step
"Exploring the capabilities of Maritech Eye™ is a natural next step on this path, as they are now the first Icelandic company to start testing hyperspectral imaging for objective quality documentation and species sorting," Olavsson continues.
"As Maritech Eye™ is the only solution of its kind in the world, that can actually document the inside of whole, round whitefish, this gives our customers a new competitive advantage in the global market – in addition to the efficiency gains, reduced waste, and other benefits such as the reduced amount of repetitive, manual tasks."
Image: Konrad Olavsson, Maritech Iceland, and Gisli Kristjansson, Brim Seafood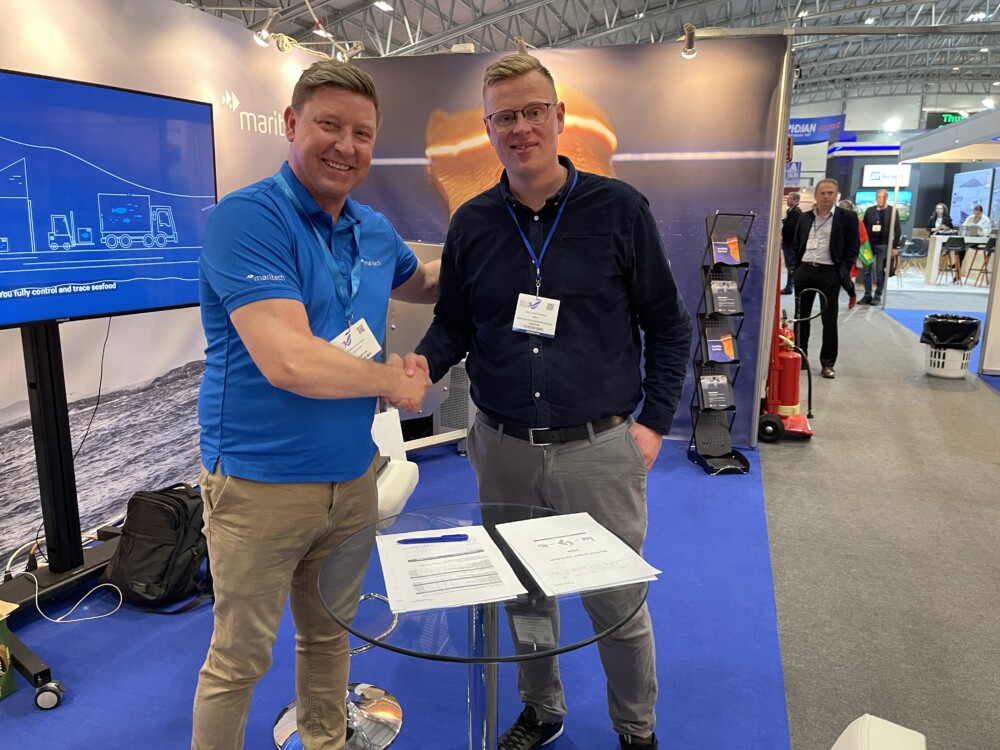 Hnyfill + Maritech
A new Maritech Cloud customer was also signed at Icefish – Hnyfill will now be the first Icelandic company using Maritech Purchase & Sales for all their seafood trading processes. Hnyfill is a fish processor located in Akureyri in north Iceland. They have been operating for nearly 30 years and are moving into further digitalization of their processes together with Maritech.
"I'm not sure if it's coincidence or fate that the meaning behind the word Hnyfill is 'to pioneer,' which is exactly what our relationship with them will do," Olavsson smiles.
"We are looking forward to getting them up and running and aim to build a strong partnership for the future."
Connected in Boston
The connection between Maritech and Hnyfill was established at Seafood Processing North America in Boston in March earlier this year.
"At the show we met the owners of Hnyfill and other processing and sales offices in Iceland. They showed us great interest since they have the need to digitalize their companies – preferably with the same IT partner to be able to cooperate and transfer information with more ease. Choosing Maritech as their trading software partner might just be the first step in our cooperation."
Image: Konrad og Einar Örn Aðalsteinsson, Hnyfill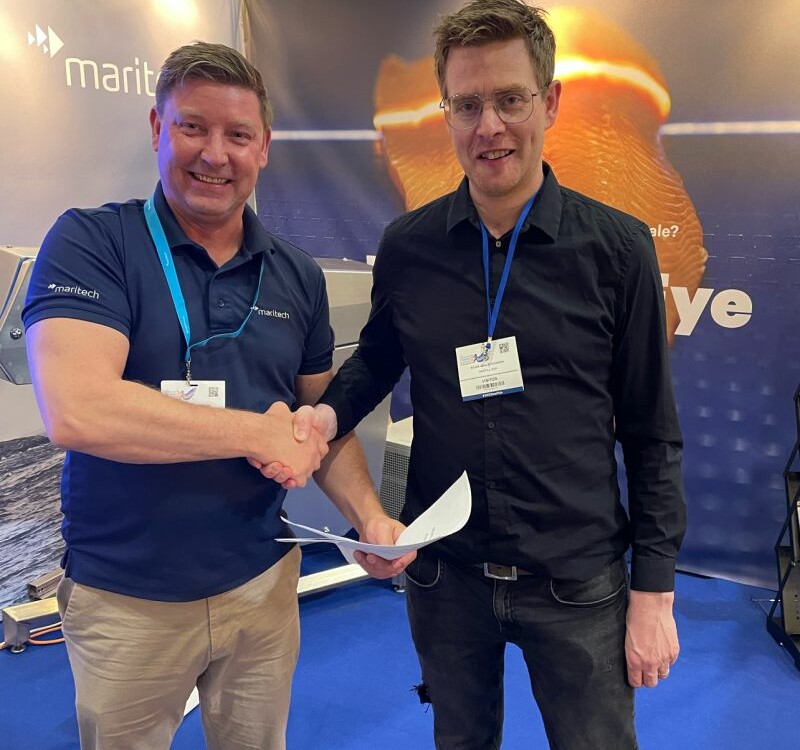 Are you curious?
Let us know! Just fill in this form, and we will get back to you as soon as possible.