Salmon report – 360o view of salmon prices and market trends
Spot emerging market risks or opportunities and build an optimized production plan using data-driven market analysis tailored for salmon producers.
The common problem for salmon producers today is not a lack of data; it is too much data without the tools, technology, and expertise necessary to access, analyze, and draw insights from the data directly.
The value of structured data
Data and reports on the latest global salmon market trends come in different formats – making it difficult to sift through and extract the market information that matters. Extrapolating key trends to benchmark and plan against is both difficult and time consuming for salmon producers. Researching market prices and supply trends requires significant resources to do accurately.
For aquaculture operations, with fluctuating prices and costs, timing decisions for your harvests can be critical in achieving the best possible margins. Information on price patterns and market supply can change production plans, and hence increase the value of the farming stock.
Build a strategy you can act on
Most salmon companies do not have the breadth or granularity of data, as well as the data capabilities needed to fully optimize their data for all aspects of their business. To transform data into valuable and actionable knowledge, companies need to capture and aggregate the right data from numerous sources and use it effectively to solve challenges, continuously fine-tune and improve processes, and gain profitable business advantages and price-setting objectives.
In close cooperation with Sea Data Center, we have developed a report which gives you an overview of the global salmon market and handles the time-consuming process of data-driven analysis for you. All information is presented in an interactive "dashboard" providing meaningful insights and an accessible snapshot understanding of global salmon market conditions and trends.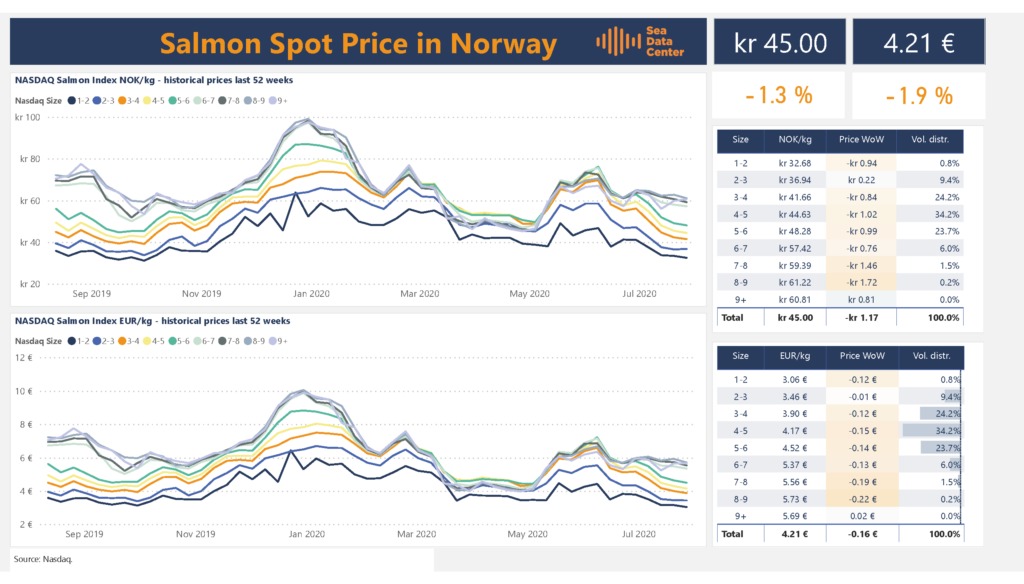 Grow your revenue through detailed, fact-based decision making
Our salmon report is industry tailored to support the decision-making process and risk management for salmon company operations, increasing your knowledge and understanding of rapidly shifting global market conditions, sales channels, and emerging product opportunities, helping you to maximize price setting and margin planning. Our deep expertise and unrivalled network ensure we deliver accurate and timely information you can trust so you can react to market changes with confidence and in a timely manner. Quickly and easily analyze supply and demand indicators and financial data, build a revenue strategy based on that analysis, and make that revenue strategy actionable for your marketing and sales teams.
Reliably anticipate demand
When performing harvest planning, timing is everything. The Salmon Report provides essential insider insight when planning harvests and sales and negotiating the best possible pricing and currency contracts. Benchmarking the efficiency of your company's performance overlaid against industry trends streamlines risk management and operational decision-making processes. Using the Salmon Report, you can:
Monitor the supply (Biomass) from Norway, broken down to area.
Visualize the salmon supply from Norway into different global markets.
Forecast using the latest price developments.
Compare supplying countries into benchmarking markets.
Forecast the highest profitability point for successful production/harvest.
Reliably anticipating demand can also help you make more effective use of logistics and shipping services, especially when costly, specialized vehicles and containers are required or there are stalls within the supply chain. The Salmon Report is rapidly becoming Norway's industry gold standard for planning and management of harvesting, sales, and financial analysis.
Curious?
We are eager to tell you more